You'll Come Away With
New Conviction... New Direction...
and a Concrete Plan

If you are looking for tips on how to write a winning resume, climb the corporate ladder, or dress for success... the Making Dreams Happen Audio Program is not for you.
But if, instead, you're looking for a more satisfying livelihood where you call your own shots... then I encourage you to listen in. Maybe you know what you want to do, but you just can't quite get started... or maybe you really haven't figured out what it is you want to be when you grow up. Either way, this program will put you on the fast-track to living your dream. You'll –
Discover the 10 steps to escaping the job world and creating the life you really want. We'll lead you, step-by-step, down the path. By the time you've listed to all 23 CDs, you'll be going at a sprint...

Learn how to set all your dream-dashing talk aside and focus on creative new possibilities for a life where you're in charge. You'll come away with a sure-fire way to banish the "I wish I could… but..." and replace it with surprisingly productive ideas you probably didn't know you had in you...

Find out why there has never been a better time to be your own boss… and turn your passions into profits...

Discover the secret to creating multiple income channels... and learn ways you can get started quickly with little or no money...

Find out how to battle the "Resistance Monster" and turn your fears and worries into positive action... (Don't worry, no motivational pep-talks here. This is meaty, enlightening stuff that will teach you to unravel resistance... and reveal how it might just be a sign of high self-esteem.)

Find out what Ted Koppel, Daniel Boone, and Albert Einstein figured out years ago about what it really means to wing it... and learn how to apply this powerful secret to your own life and work...

Learn how "lying"" may actually reveal your deepest yearnings or desires…

Find out how to tap into the resources all around you (you won't believe where some of them hide)... and create networks that can help you turn your dreams into reality fast...

They might look to you like impending disaster... but find out what "spaghetti days" are, why you should cherish them, and how, in fact, they play a critical part in helping you rise to challenges and reaffirm your dreams...

Learn why "forcing a positive attitude" is no way to operate... and why complaining can actually help you achieve your dream...

And much, much more...
Barbara Sher
Barbara Winters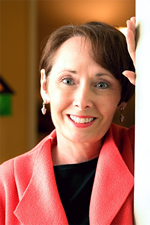 Valerie Young