"I've got about 4 copies of WISHCRAFT. It has been very popular with all that I've suggested it to. I have now included it in PARACHUTE."
-Richard Nelson Bolles, Author of WHAT COLOR IS YOUR PARACHUTE?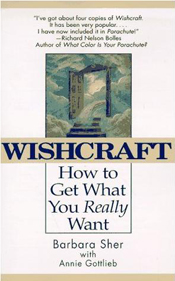 This extraordinary book is designed to help you achieve them. In it, Barbara Sher goes beyond the groundbreaking principles introduced in her phenomenal number one best seller, Wishcraft. Here she adds an important new element to the practical advice, success secrets, and motivational techniques that have transformed so many lives... because thousands of people have told her that they can't get what they want because they just don't know what they want.
Do those words sound familiar? If so, you have a common problem, and there is a solution. And Barbara Sher has a surprise for you. You Do know what you want. Your life is filled with clues. Everything you do, or don't do, has a good reason behind it. With profound wisdom and reassurance, she helps you peel away the layers, reveal your true hopes and aspirations, and discover exactly what has been holding you back. Because whatever it is Can Be Removed.