BARBARA SHER'S BIG CHEAP WEEK-END WORKSHOP
Location: New York City, mid-town Manhattan (West 34th Street and 7th Avenue, near Penn Station)
Start: Friday, November 19th, 2010 at 6pm
Finish: Sunday, November 21st, 2010 at 1.30 pm
Fee: A mere pittance! $325 for the whole thing.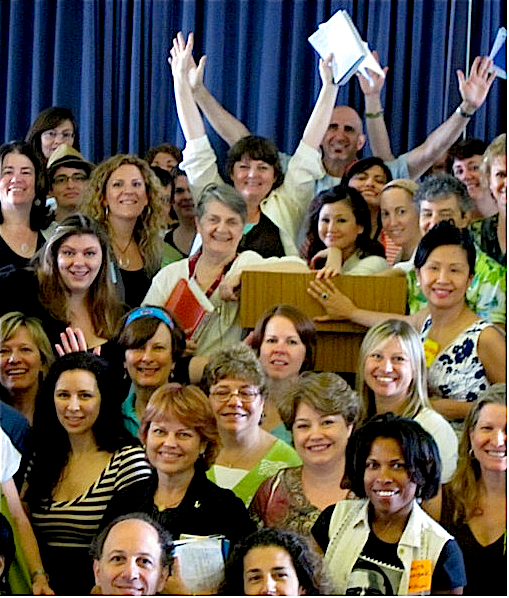 Ok, Iím not going to be modest at all. My first ever BIGCHEAPWEEKEND in New York City was a smash hit. In fact, it was so exciting that Iím going to do another and it would be most excellent to have you there.
I wish those of you who couldnít attend this workshop could have seen the room filled with people lighting up brighter and brighter as they realized they could have the dreams they wanted. New friendships were formed, and the participants left inspired with a new outlook on goals that many of them had given up as impossible. People who were convinced they had no goals at all discovered that they did!
Just to give you an idea of the extraordinary things that happened at my July BigCheapWeekend, hereís a few notes I got from participants:
"It was so wonderful to be around such an intelligent and supportive group of people! I'm moved beyond words! Thank you!!"
"At Barbaraís workshop I was welcomed, inspired, and appreciated by many warm and wonderful people and ideas - a life-changing event!"
"Barbara Sherís workshop gave me freedom to let my imagination run wild, freedom to dream again and to make my wishes become a reality and an inspiring opportunity for all of us to have a chance to accomplish our dreams."
"A very thought-provoking weekend! I experienced a profound "aha" moment."
"Barbaraís workshop far exceeded my hopes and expectations. It was so real, with practical information that is so usable. I havenít felt that great in a long, long time!"
"From a crowded room of strangers, came light, ideas, wonder and a multitude of gifts."
"At Barbaraís workshop I developed the feeling that I really can do what I love, and that there are lots of folks out there who want to help me."
"Barbara, you delivered! Your very helpful exercises and great ideas helped me clarify my wishes, obstacles, next actions and patterns, and I made new, genuine friends."
"Awesome. Amazing. Inspiring. Thank you Barbara and to everyone for sharing."
"My heartfelt thanks to Barbara for a fantastic weekend, and for making the workshop so affordable. I can't tell you how much I enjoyed the sessions, especially Barbara's wit and countless words of wisdom from someone who has been there and done that so many times."
"I went to learn and watch and came away far richer than I could have imagined."
"A wishing well among kindred spirits, from ideas to possibilities, and strangers to friends."
"What gifts we all shared as we practiced listening to one another and creating the space to be heard! I felt heard by others and so alive when listening."
New York City, where Iíve lived for many years, is my favorite place in the world, a perfect place for a weekend retreat. Itís alive with energy, full of interesting, creative people and loaded with marvelous things to do, no matter what your interests are. And itís the home of possibilities, the perfect place for getting dreams into action.
Stellar Assistant Andrea has found a spectacular sunny room with floor to ceiling windows all the way around, overlooking New Yorkís unforgettable skyline, including a spectacular view of the Empire State building.
If you've been to any of my workshops in the past, you'll find this one familiar: lots of laughs and interaction, high energy and dreams launched before your eyes! There will be lots of group exercises and brainstorming.
As you know, I believe the real secret to success is not walking around telling yourself youíre wonderful, itís having people on your side who love your vision and your potential and want to see you succeed. Praise makes you brave, so there will be plenty of that. Best of all, just about everyone who comes to my workshops is an idea factory, and there will be one degree of separation from anything you need to know. Youíll leave the weekend ready to go after your dream, with tons of new ideas, friends, energy and support to take you the distance.
If you know me, you know there won't be any up-selling or pitching for other programs or products. In fact, I probably won't have anything for sale at all. (If you want me to sign a book, I'd be delighted, but you'll have to bring it with you.)
I've got bigger fish to fry at this workshop. (Here's a YouTube video where I explain how obsessive I am.)
I want you to learn what your dreams really are and how you can actually get them (And you know I don't mean group shouts of "I Can Do It!".)
You must not leave this planet with your gifts still inside you. You owe your gifts to the rest of us, for the gift of life itself. And I want to make sure you do something about that.
I'll be running all four of the 3-hour workshops myself. During every one of them, right from the first evening, and in the breaks in between (when I'm home grabbing a nap) you're going to make friends with some splendid people you'll want to know forever.
I'm making this NY workshop as affordable as I possibly can so that lots of people will be able to attend: $325 for the entire week-end, but I haven't short-changed the content a bit! The four workshops will cover everything I want you to know:
How to discover what you really want when you think you don't know. (Clue: You do.)


How to melt that mysterious resistance that stops you from going after your dreams so you can finally say goodbye to being stuck.


What you should do when you want to do everything. (Clue: Everything!)

and finally


How to do what you love without starving to death.
On Friday we'll start at 6pm and jump right into the excitement. In two hours a roomful of strangers will become friends and you'll be ready to make the most of the whole weekend.
Workshop Helpers
On Saturday our first session will start at 10:00 a.m. and end at about 1:00 p.m. Our second session will be from 3:00-6:00.
Saturday's 2-hour lunch break will give you plenty of time to find and slowly ingest a New York deli's Pastrami Sandwich That Can Feed a Normal Family of Five (on seeded rye to kill for). They won't let us bring food into the meeting room, so put it in your suitcase before you return. Your clothes will smell just wonderful. (To you, anyway.)
Unlike a python, who has a few days to eat a New York sandwich, you won't have much time to rest much during the weekend, but you'll be given time to walk the sandwich off. If you don't like the weather, do your walking in a Fifth Avenue department store, so you can see how the other half lives.
On Saturday night you'll have time to catch a play or opera, a pub or pizza crawl. That will be your 'evening in NY.' (We'll have some jolly ideas for you as the time draws nearer.)
Sunday morning's session will be from 10-1pm. I tend to get inspired and go way over, plus by Sunday you'll have plenty of new friends and you'll want to hang out with them after the last session, so don't book your flight for mid-afternoon. I suggest you book evening flights or trains, or even stay a few extra days. In fact, stay a week and have a fantastic Thanksgiving right here with new friends.
You're going to like my jokes and my mighty insights, but the truth is, the real treasure from this weekend will be community. You're going to be part of one to whatever extent suits you, both during and after the NYC weekend.
Register soon, we have limited space and the fire marshal is really serious about his numbers. The last workshop sold out. Here's the registration link!
Much love,
Barbara
PS: Fee is for tuition only. Travel, hotel and meals not included. When you register, you'll receive an automated email from Andrea with some info about hotels, meals and fun things to do.