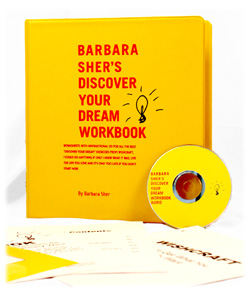 The Discover Your Dream Course Workbook is for everyone who thinks they don't have a clue about what they want. In this workbook I've gathered together all my best exercises for finding lost, forgotten or never considered dreams. If you're someone who can't figure out what direction you want your life to take, this workbook is for you. Although I've included a number of different methods for flushing out those hidden dreams, they're all based on one premise: what you love is what you are gifted at. I believe we're all born with our gifts and the best way to find them is to notice what we love to do. Almost invariably you'll find that your talents have always been with you, even in childhood. All the same, they can be hard to find, so in each of my books I've developed exercises that conduct the search from different angles. The strategy has worked well. I've gotten hundreds of letters telling me that the exercises have achieved their goal and freed readers to follow their dreams. In this course, for the first time, I've gathered all of them into one place.
But exercises don't work if you don't do them and lots of people weren't doing them. I'd been asked for years to come up with worksheets for my exercises and I was ready to do that until I looked at other people's workbooks and realized that even with worksheets I didn't feel like doing the exercises. This was not good. What would make me want to start the process of writing on those worksheets?
Then I got it: I'd need an instructor to keep me company, to explain what I was supposed to do and why I was supposed to do it -- and to comment on the results. Suddenly inspired, I rolled up my sleeves and plunged into a year of writing, recording and editing a 44-track audio CD to accompany each exercise and I sketched dozens of worksheets designed to go with the CD. The completed package was a lot of work, but it's a honey. I've gotten the best reactions for the Discover Your Dream Course Workbook of almost anything I've ever done. I always knew the exercises worked, but now I was hearing,"This is the only workbook I've ever actually used. Your voice kept me turning the pages and writing my answers" Now I proudly offer it to you. I know you're going to find exactly what you're supposed to be doing, and that will benefit all of us.
A word about money: At $129, I know the Discover Your Dream Course Workbook isn't inexpensive. The cost reflects the labor and the production expenses. Also, this electronic version can save you more than $20 compared with the price of the hardcopy. However, you might want to work with a group of friends and share the expense. I think the process can work even better that way. So I give you my permission to copy up to 10 sets of the worksheets (but never the audio) if you're using it for non-commercial reasons. (If you wish to use this course in any other way, please contact me personally.)
| Discover Your Dreams Kit | Price | Purchase |
| --- | --- | --- |
| eVersion | $129.95 | |
All ebooks are in PDF format, audios in MP3 format